Triplett-Westendorf Philosophy
As an independent fee-based financial planning firm, our legal responsibility is to our clients, not any company. Integrity and reputation are important to us, which is why we always place you, the client, first.
We recognize the retirement risks you face, and we meet them head on. Our comprehensive approach maximizes all your retirement income sources, including pension, Social Security, and other sources of guaranteed lifetime income.
Triplett-Westendorf Financial Group Receives 2022 Best of Ankeny Award
Ankeny Award Program Honors the Achievement
ANKENY October 5, 2022 — Triplett-Westendorf Financial Group has been selected for the 2022 Best of Ankeny Award in the Financial Planner category by the Ankeny Award Program.
Each year, the Ankeny Award Program identifies companies that we believe have achieved exceptional marketing success in their local community and business category. These are local companies that enhance the positive image of small business through service to their customers and our community. These exceptional companies help make the Ankeny area a great place to live, work and play.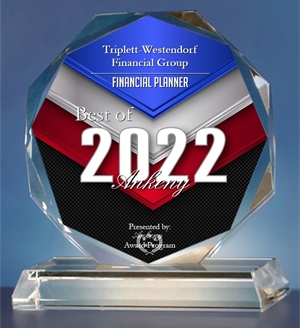 Various sources of information were gathered and analyzed to choose the winners in each category. The 2022 Ankeny Award Program focuses on quality, not quantity. Winners are determined based on the information gathered both internally by the Ankeny Award Program and data provided by third parties.
The Triplett-Westendorf Financial Group Difference
When you work with us…
we help you structure a retirement income plan that reduces stress and anxiety so you can enjoy life in retirement. Through your commitment and discipline and the Triplett-Westendorf Financial process, we'll help you identify any weak areas, define priorities, and build a stronger, clearer, more precise plan to achieve financial success.
We introduce you to financial strategies…
that you need but may not have heard of from other firms. Then we show you how to use those strategies to effectively maximize your retirement savings because you deserve the clarity, transparency, and comfort of owning a guaranteed retirement income that lasts as long as you do.
Get your arms around your financial life…
once and for all when you work with us. After we take an inventory of your resources and goals, you'll have clearer picture of where you are, which is essential to achieving the retirement you've worked so hard for. Along the way we'll answer your questions, take time to educate and empower you, and guide you so that you can take charge of your financial affairs. Together, we'll take the worry out of your money.
We Always Place You, the Client, First
Organization
With us, you'll get your arms around your financial life. We'll do this together by taking a detailed inventory of your resources and goals.
Objectivity
Hope is not a strategy. We work to clearly understand your goals and craft a plan that focuses on realistically meeting those goals.
Proactivity
We are always looking forward to find and implement new strategies for you. We feel the best results are when we are ahead of changes, not reacting to them.
Partnership
Our team gets to know you, and you get to know us. We work together every step of the way to make sure that your future is financially sound.
Education
We find that informed clients are successful clients. You get answers to your questions and an education that will empower you to take control.
Accountability
We give you the clarity and transparency you deserve. We build your plan with your goals in mind and keep you involved and informed at every step.